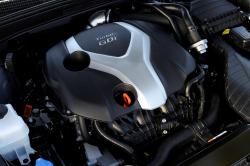 — Hyundai and Kia vehicles equipped with Theta II engines and recalled because of those engines are the focus of an investigation by the National Highway Traffic Safety Administration (NHTSA).
Safety regulators want to know if Hyundai and Kia did enough and fast enough concerning the recalls of nearly 1.7 million vehicles with Theta engines prone to a lot of noise and finally locking up.
In September 2015, Hyundai recalled about 470,000 model year 2011-2012 Sonatas equipped with 2-liter and 2.4-liter Theta II engines. At the time, Hyundai told NHTSA that manufacturing problems left metallic debris around the engine crankshaft, causing problems with oil flow. The pieces of metal interfere with the oil flow through the connecting rod bearings and damage the connecting rods.
The automaker blamed the problem on a mechanical "deburring" process used to remove metallic machining debris from the crankshaft.
By April 2017, Hyundai expanded the 2015 recall by including another 572,000 vehicles with Theta II engines, including 2013-2014 Hyundai Sonata and Santa Fe Sport vehicles. Hyundai told safety regulators the same metal debris problem caused the expanded recall.
Near that same time, Kia told NHTSA about a recall of more than 618,000 model year 2011-2014 Kia Optima, 2012-2014 Sorento and 2011-2013 Sportage vehicles because the Theta engine bearings wore out too early and caused the engines to seize.
Kia said it didn't recall the vehicles in 2015 when Hyundai first recalled its cars because the Theta II engines in the Kia vehicles were built on a different production line and had different problems than Hyundai.
In addition to customers complaining about the Theta II engines, a Korean whistleblower who worked for Hyundai as an engineer let NHTSA know what he knew.
And then there is the amount of time Hyundai has spent in court because of the Theta engines.
Owners started suing after the automaker refused to pay the thousands of dollars to repair or replace the engines, with one lawsuit from 2015 alleging a dealer wanted $4,500 to do the work.
Kia was also served papers over a class-action lawsuit in 2016 filed by owners of vehicles equipped with Theta engines.
NHTSA says it took action to "investigate both the timeliness and scope of Hyundai's Theta II engine recalls, and Hyundai's compliance with reporting requirements."
CarComplaints.com will update our website with results of the investigation.