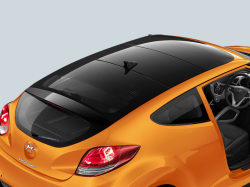 — A Hyundai panoramic sunroof lawsuit will continue after a federal judge shot down a motion by Hyundai to toss claims made by the plaintiffs. The lawsuit alleges the automaker has known about exploding panoramic sunroofs for years but concealed the defects from consumers.
Plaintiff Billy Glenn filed the Hyundai exploding sunroof lawsuit in 2015 after the glass in his 2014 Santa Fe Sport allegedly exploded and had to be replaced, just for the replacement sunroof to also shatter.
The plaintiffs include owners from six states who claim Hyundai ignored consumer complaints so the automaker could make money from selling the vehicles. Those models include the 2011-2015 Tucson, Sonata and Veloster, and the 2013-2015 Santa Fe, Santa Fe Sport and Elantra GT.
The owners say if they would have known about the exploding sunroofs, they would not have bought the vehicles, at least not for the price they paid.
The judge previously threw out some claims concerning unfair profit but allowed fraud claims to continue. Hyundai then asked the judge to whittle down the lawsuit even more by throwing out claims based on unjust enrichment, a request denied by the court.
Hyundai also argued claims of an owner who said the vehicle was unmerchantable within the warranty period should be tossed, but the judge denied the request.
Hyundai, like other automakers, has suffered from the problem of exploding sunroofs in the past, including in October 2012 when the National Highway Traffic Safety Administration opened an investigation into exploding sunroofs in the Hyundai Veloster.
In December 2012, Hyundai recalled the Velosters to replace the sunroofs, blaming the problem on glass that may have been damaged during mechanical installation at the factory. Then in February 2013, the recall was expanded to include additional Veloster cars.
The Hyundai panoramic sunroof lawsuit was filed in the U.S. District Court for the Central District of California - Billy Glenn v. Hyundai Motor America et al.
The plaintiffs are represented by the Gibbs Law Group LLP, and Tousley Brain Stephens PLLC.
CarComplaints.com has owner-reported complaints about the Hyundai vehicles named in the panoramic sunroof lawsuit: