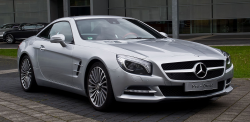 — Mercedes-Benz is recalling 70 cars to fix problems related to the electric power steering systems. The recalled cars include the following:
2013-2015 Mercedes-Benz SL550
2013-2014 Mercedes-Benz SL63 AMG
2014-2016 Mercedes-Benz E350
2014 Mercedes-Benz E350 Cabriolet
2014 Mercedes-Benz E350 Coupe
2014-2015 Mercedes-Benz S550
2015 Mercedes-Benz E350 Bluetec
2015-2016 Mercedes-Benz E400
2016 Mercedes-Benz E550 Coupe
2016 Mercedes-Benz Maybach S600
Mercedes says the cars use electric power steering systems that nay have soldered contacts that weren't soldered correctly inside the control units. The bad contacts can cause a sudden loss of power steering while driving, causing serious problems if driving around a curve or at slow speeds.
The automaker says in addition to power steering problems, if the control unit pins lose their connection, the risk of fire is also real even if the car is shut off and parked.
The recalled vehicles were built August 23, 2012, to August 14, 2015.
The Mercedes-Benz recall should begin in February 2017. Dealers will replace the electric power steering control units, but until then, owners may call the automaker at 800-367-6372.