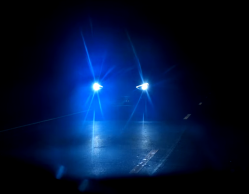 — The midsize SUVs with the best headlights are the 2017 Hyundai Santa Fe and 2017 Volvo XC60, according to researchers from the Insurance Institute for Highway Safety (IIHS) after conducting the latest round of tests on 37 SUVs.
Seeing better at night and limiting glare to oncoming drivers is the goal of SUV headlights, but a goal that many vehicles don't achieve. Researchers found only two luxury and non-luxury midsize SUVs out of 37 have headlights rated "good," with another 12 SUVs equipped with headlights rated "acceptable" and 23 SUVs with "marginal" or "poor" headlights.
The subject of decent SUV headlights can be something owners only learn about after purchasing SUVs, primarily because consumers would need to test drive the SUVs at night to know anything about the lights. And the subject can be confusing because SUVs often come with multiple headlight variants.
In fact, researchers determined the 37 SUVs that were tested have 79 possible headlight combinations.
In the IIHS tests, engineers measure how far light is projected from the low beams and high beams as the SUV travels straight and on curves. Glare for oncoming vehicles also is measured from low beams.
The headlights are halogen, high-intensity discharge (HID) or LED technology, each that can be paired with either reflectors or projector lenses. Projector headlights use one lens to spread the light out, while reflectors have multiple surfaces that bounce the light forward.
IIHS found that all the headlights that were rated good and acceptable have projector lenses and the three good-rated headlight variants are HID. However, researchers say having HIDs and/or projector lenses doesn't guarantee good or acceptable ratings.
As for one of the two SUVs with the best headlights, the 2017 Volvo XC60 is available with optional curve-adaptive HID projector headlights, the lights which earned the top rating.
Curve-adaptive headlights turn as you turn the steering wheel, and the HID headlights also can be purchased with optional high-beam assist which helps increase high-beam use by automatically switching between high beams and low beams.
IIHS says it will continue to test for the best headlights, something researchers have already done with small SUVs, pickup trucks and 2016 cars.
All tested SUVs are model year 2017 unless otherwise indicated.
Luxury SUVs
Good Rating
Acceptable Rating
Acura MDX
Acura RDX
BMW X5
Buick Envision
Infiniti QX70
Lexus NX
Lexus RX
Mercedes-Benz GLE
Marginal Rating
2018 Audi Q5
BMW X3
Cadillac XT5
Infiniti QX50
Lincoln MKT
Volvo XC90
Poor Rating
Infiniti QX60
Lincoln MKC
Lincoln MKX
Non-Luxury SUVs
Good Rating
Acceptable Rating
Honda Pilot
Jeep Cherokee
Jeep Grand Cherokee
Toyota Highlander
Marginal Rating
2018 Chevrolet Equinox
Dodge Durango
Ford Flex
GMC Acadia
Nissan Murano
Nissan Pathfinder
Poor Rating
Dodge Journey
Ford Edge
Ford Explorer
GMC Terrain
Hyundai Santa Fe Sport
Jeep Wrangler
Kia Sorento
Toyota 4Runner