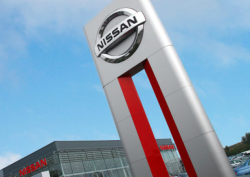 — Nissan is in trouble in Japan because only a certified technician is allowed to put a stamp of approval on documents used to indicate Nissan vehicles have passed final inspections before the vehicles are legal to sell.
But according to the Japanese Ministry of Land, Infrastructure and Transport, Nissan vehicles were illegally inspected, registered and sold because uncertified technicians were used for the job.
Based on available evidence, Nissan falsified vehicle inspection documents at five of six Japanese factories, documents used to make the vehicles appear they passed final inspections before sold to the public.
Japanese regulators believe uncertified workers were given stamps that belonged to certified workers, a practice that may have been going on since 2014. Officials are trying to determine how much Nissan knew about the conduct because typically eight inspectors would be involved per vehicle during final inspections.
Further, Nissan would still be handling final inspections the same illegal ways if Japanese transport officials wouldn't have discovered the activity.
The problem was found by federal regulators in September during a check of records at the factories, causing Nissan to open an internal investigation into the apparently routine illegal practice.
Nissan says it doesn't know how the practice started and the automaker hasn't admitted intentionally fabricating documents, although regulators are clearly thinking this was a planned action.
Japanese regulators are trying to determine how many non-certified technicians were not employees as Nissan does use contractors who haven't been certified to perform final inspections. Regulators also say they want to know how widespread the problem was within Nissan's certification procedures.
Every automaker in Japan must register its vehicles with the government before those vehicles are sold, then once sold, every three years a vehicle owner must renew their registrations. Without certified technicians approving the final inspections, none of the vehicles should have been put into the hands of consumers.
Japanese regulators say the Nissan incidents may be a sign it's time to revise federal regulations concerning vehicle inspections and registrations to make sure this is the last time an automaker fails to do its job before selling new vehicles.
Nissan Recall
The mess caused Nissan to recall 1.16 million vehicles in Japan built between January 2014 and September 2017, although that number had originally been higher due to the inclusion of some cars that passed legitimate inspections.
Some of the recalled vehicles include the Nissan Serena, LEAF, Note and Murano, but the automaker believes as many as 38 model variants are affected by the recall, including models manufactured by Nissan for Mazda and Suzuki.
As part of the re-inspection process, dealers will check for any issues related to steering, acceleration and braking performance.
Investors are following the proceedings closely not only because of the hit to Nissan's reputation, but because the automaker will likely spend more than $220 million to conduct the recall.
This will add to Nissan's previous troubles over connections to Mitsubishi's 25-year coverup of selling vehicles with overstated fuel economy estimates.