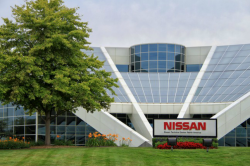 — A Nissan transmission (CVT) class-action lawsuit filed in Alabama alleges cars and SUVs are equipped with continuously variable transmissions that allegedly slip, jerk, jump, bind, lag and stop suddenly without warning.
Plaintiff U Can Rent LLC says it purchased nine 2013 Sentras, one 2013 Nissan Juke and four 2014 Nissan Jukes.
Plaintiff Pamela Pritchett says she purchased a 2013 Nissan Sentra that experienced the same transmission problems as U Can Rent. Pritchett says the problem got so bad, she couldn't drive the car and eventually had to pay about $4,500 to replace the CVT.
However, the plaintiff says the replacement transmission is no better than the original CVT. Nissan allegedly refused to help pay for the repairs and said there weren't any problems with the transmission.
According to the lawsuit, the plaintiffs started having CVT problems when the vehicles had less than 20,000 miles on them, including incidents of engines revving, shuddering and delays in shifting. At other times, the vehicles felt like they dropped down a gear while driving.
No amount of maintenance will help with the transmission problems, according to the plaintiffs, and depending on Nissan's warranties is allegedly a mistake.
The lawsuit says Nissan dealers routinely say there is nothing wrong with the CVTs after diagnostic tests are performed. The plaintiffs claim dealerships often say the transmissions just need "broken in," so no repairs to the CVT's are required.
Other Nissan CVT lawsuits claim the automaker knew about the transmissions for years, and this lawsuit is no different. The plaintiffs say Nissan has known about the problems for at least 10 years and concealed that knowledge to continue marketing and selling the vehicles.
Proof can allegedly be seen in the multiple technical service bulletins (TSBs) Nissan sent to its dealerships about the continuously variable transmissions. Additionally, the automaker issued an extended warranty program called the "CVT Customer Satisfaction Program" in response to similar issues identified in 2007-2010 Sentras and other models.
But the plaintiffs say they were shocked when Nissan didn't include many affected vehicles in the CVT program, including theirs.
According to the lawsuit, Nissan should have skipped the bulletins and customer service programs and ordered a recall, but instead, the automaker continues to market the transmissions as more durable than typical transmissions.
The proposed class-action lawsuit includes all consumers who own or lease or formally owned or leased 2013 Nissan Sentras or 2013-2014 Nissan Jukes. In addition, the lawsuit says other currently unnamed Nissan vehicles with CVTs are included in the lawsuit.
The lawsuit was filed in the U.S. District Court for the Middle District of Alabama - U Can Rent, LLC et al., v. Nissan North America, Inc.
The plaintiffs are represented by Heninger Garrison Davis LLC, and the Law Offices of Troy King.