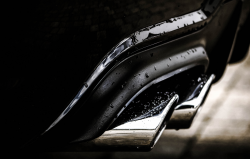 — South Korea has punished more automakers for violating emissions regulations, with BMW, Mercedes-Benz and Porsche the latest companies to answer for forging documents that allowed the automakers to sell their cars in the country.
South Korea's Ministry of Environment has been a vocal critic of multiple automakers after Volkswagen was caught cheating on emissions tests, but this time the three affected automakers claim the "forgeries" were just honest errors made by employees.
BMW, Mercedes and Porsche are also accused of changing components related to the emissions systems without first gaining permission of regulators.
According to Korean regulators, the three companies will pay millions in fines for their illegal acts, with BMW paying about $54 million, in addition to the loss of certification for at least 28 models built between 2012 and 2015.
Officials say BMW forged emissions documents to sell about 80,000 vehicles, causing regulators to yank certificates concerning fuel economy until the matter is cleared up.
Mercedes learned that 19 of its models (more than 8,200 cars) will lose their certifications and five Porsche models (787 vehicles) received the same fate. Although BMW will write the largest check at $54 million, Mercedes and Porsche will pay about $9 million for forging documents.
The action shouldn't hurt Porsche too much because the automaker says the relatively small fine is for actions taken up to 2015, not for the properly certified vehicles sold since.
South Korean prosecutors will also likely jump into the mix as officials claim the automakers may have violated customs law for illegally importing vehicles.
The fines may be in the millions, but the automakers should be thankful that vehicles already sold in the country aren't included.