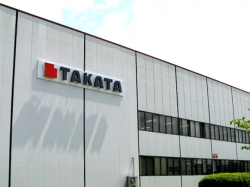 — Airbag manufacturer Takata has been involved in numerous lawsuits over defective airbags that explode, but a case concerning a Texas crash is a bit different as Takata says it didn't even make the airbag that allegedly caused serious injuries to the driver.
In the lawsuit, plaintiff Fredys Cabrera says the Takata airbag caused "serious, permanent, life scarring and post-crash personal injuries" even though a crash never occurred.
Cabrera says he was driving his 2001 Honda on September 13, 2014, when he drove across railroad tracks and the frontal airbag allegedly violently deployed. According to the lawsuit, the airbag struck him and caused severe injuries to his face, neck, arms and hands, in addition to deep wounds and permanent nerve damage. The plaintiff also says a tooth was knocked out and he now has scars on his face.
The lawsuit says the Honda was recalled on June 29, 2014, a few months before the incident, but Cabrera says he never received the recall notice.
The plaintiff says he would not have suffered any harm if Honda and Takata would have admitted the airbags could explode. The plaintiff says both companies knew for years the airbags were dangerous because they contain ammonium nitrate as the chemical that deploys the airbags.
That chemical is what creates what should be a small explosive force to deploy the airbag, but heat and moisture can alter the chemical and make it unstable.
The ammonium nitrate is inside a metal canister called an inflator, and it's the inflator that turns into a grenade that sends shrapnel into occupants. To date, at least 16 people have been killed by Takata airbags, and at least 180 injuries have been recorded.
When all is said and done in the U.S., about 70 million Takata airbags will be recalled and generally replaced with airbags made by other companies.
Takata's argument against the claims of Cabrera is simple. Takata says it never manufactured or sold the airbag inflators or components used in the Honda vehicle owned by the plaintiff. Takata also says it never sold airbags to any automakers in Texas and had no part in marketing vehicles equipped with Takata products in Texas.
Although the airbag manufacturer listed many reasons to dismiss the suit, Takata says the fact it didn't make the subject airbag should be enough to get the complaint tossed.
The Takata lawsuit was originally filed in the U.S. District Court for the Southern District of Texas Houston Division - Fredys Cabrera v. Takata Corporation, TK Holdings, Inc., Honda Motor Co., Ltd., Honda R & D Co., Ltd., American Honda Motor Co., Inc., and Honda of America Mfg., Inc.
The plaintiff is represented Law Offices of J. Robert Davis PC.