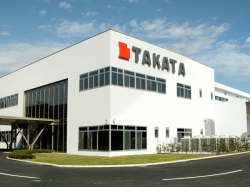 — Takata, the company responsible for the largest auto-related recalls in U.S. history, will pay $1 billion for one count of wire fraud and for concealing deadly airbag defects since at least 2000.
Those airbags have caused at least 16 deaths and nearly 200 injuries from metal airbag inflators that explode and send shrapnel into vehicle occupants.
Included in the $1 billion settlement is $850 million for automakers that have been ripped off by purchasing the inflators, $125 million set aside for people injured by the airbags and $25 million to settle a criminal fine.
Although payments to injured consumers must be completed soon, Takata has time to make the $850 million in payments to automakers as the airbag maker attempts to find a buyer.
Under terms of the settlement agreement, all payments to automakers must be completed within five days of the sale of Takata or merger with another company.
This isn't Takata's first dealings with U.S. authorities as the company paid a separate penalty of $70 million to the U.S. in 2015, but the airbag maker will be on the hook for $200 million if all the airbags aren't repaired by 2019.
Takata Executives Indicted
Separately, three Takata executives have been indicted by the U.S. for their role in the deadly cover-up. Shinichi Tanaka, Hideo Nakajima and Tsuneo Chikaraishi are charged with six counts of conspiracy and wire fraud.
According to the indictment, Chikaraishi was chief of Japan-Asia airbag inflator operations, Tanaka was executive vice president of airbag inflator global operations and Nakajima was director of engineering.
The feds claim the three knew the airbag inflators were defective as early as 2000 and talked about falsifying test results during routine conversations, telling employees to "XX-ing" the test results.
U.S. prosecutors allege the three executives did whatever they needed to do to keep selling the defective airbags to automakers, with emails mentioned in the indictment claiming the executives wrote about having no choice but to falsify documents provided to an automaker.
The three executives are charged with fraud and conspiracy, but all three left the company in 2015 and the U.S. says it doesn't know where the men are. The U.S. and Japan have an extradition agreement, but it's not mandatory and it will be left up to Japan whether the executives face the U.S. justice system.