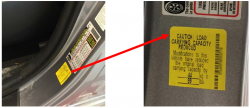 — Toyota is recalling nearly 650 vehicles that may have incorrect load carrying capacity labels that can be found in the driver's door jamb.
The label shows the amount of reduced carrying capacity caused by any vehicle modifications.
Recalled are the following Toyota and Lexus vehicles and the number of recalled models.
2017 Toyota Sienna - 1
2017 Toyota Tacoma - 34
2017-2018 Toyota 4Runner - 24
2017-2018 Toyota Tundra - 543
2018 Toyota Highlander - 2
2018 Toyota RAV4 - 3
2018 Lexus GX 460 - 40
The automaker blames the label problem on a software programming error in the accessory weight calculation, meaning the labels fail to meet federal safety standards.
Those labels were produced between September 7, 2017, to November 17, 2017.
The recall will begin January 15, 2018, when Toyota will mail corrected labels to owners. A Toyota dealer will replace the label for you if needed.
Owners with questions may contact Toyota at 800-331-4331, and use recall numbers H0Z for the Toyota vehicles, and HLF for the Lexus vehicle.
CarComplaints.com has owner-reported complaints about the vehicles named in the label recall: