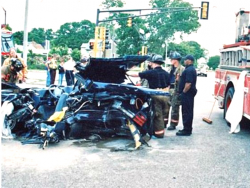 — Toyota has lost an appeal to have an $11.4 million jury award overturned after the automaker lost a case over a deadly unintended acceleration event.
In 2006, Koua Fong Lee was driving a 1996 Toyota Camry with his pregnant wife, child, brother and father when his car slammed into the rear of a 1995 Oldsmobile Ciera.
Killed in the Ciera were Javis Trice-Adams and his son, Javis Adams, Jr. Six-year-old Devyn Bolton was left paralyzed in the crash and died 16 months later. Two more Ciera passengers suffered serious injuries in the crash.
Mr. Lee claimed the car took off on its own and he tried to stop by pumping the brakes, but Lee was eventually sentenced to eight years in prison for vehicular homicide. Lee spent two years in prison when he learned Toyota was recalling vehicles after allegations of unintended acceleration incidents.
Those recalls caused prosecutors to dismiss the charges against Lee and release him from prison in 2010.
With memories of sitting in a cell for two years, Lee and the families of the crash victims sued Toyota alleging problems with the throttle cable was what caused the Camry to slam into the Oldsmobile.
Toyota, on the other hand, argued the Camry had no defects and the crash occurred because Lee was pushing the gas pedal instead of the brake pedal.
The trial lasted three weeks and ended when the jury found Toyota 60 percent liable in the crash and Koua Fong Lee 40 percent liable. Toyota was ordered to pay $11.4 million, but the automaker demanded a new trial. However, the judge ruled in June 2015 that the jury did its job and a new trial wouldn't happen.
Toyota appealed to the 8th U.S. Circuit Court of Appeals in St. Paul, Minnesota, telling the court the federal judge who heard the original case should not have allowed testimony from other Toyota Camry drivers. Attorneys for Toyota said even if those Camry owners did experience acceleration problems, there is no proof the problem was related to throttle cables.
But the appeals court ruled including those accounts shouldn't be barred because they were very similar to what Lee's Camry experienced.
Toyota also told the appeals court the verdict was based on speculation, but the court said the jury had enough evidence to properly decide if the Camry contained a defect that caused the unintended acceleration that led to the crash.