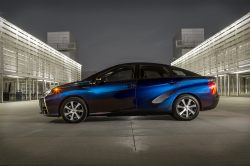 — Note: Original story appears below. Toyota is emphasizing the action for U.S. Mirai owners is not a recall, but a "customer satisfaction campaign."
Toyota is recalling all 2,840 Mirai fuel cell cars due to problems that could cause the hydrogen-powered cars to stop moving.
Although all-electric and hybrid cars are growing in popularity, Toyota markets fuel cell cars as the real cars of the future. While electric motors are used to move a fuel cell car, the electricity for the motors is created by hydrogen gas and the use of special platinum plates.
As electric cars need charging stations across the country, fuel cell cars require hydrogen fueling stations, something that has made the cars last on the popularity list.
The automaker says all the recalled Mirai hydrogen-powered cars were built between November 2014 and December 2016, and the majority of the vehicles are in the U.S. and Japan.
The Mirai can experience a failure of the fuel cell system when a driver goes down a long hill with cruise control engaged and then hits the gas pedal to quickly accelerate. Toyota says the car could quit because the voltage from the fuel cell boost converter can go beyond its limits and stop the fuel cell system.
According to Toyota, no accidents or injuries have been reported due to the defect, but dealers will need to update the fuel cell system software, something that will take about 30 minutes to accomplish.
Toyota Mirai owners in the U.S. should watch for mailed notifications from the automaker.