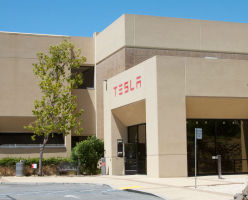 — Once upon a time, Toyota and electric automaker Tesla were best buds, with Toyota looking at the new company called Tesla that was gaining a reputation of thinking outside the box, or completely throwing out the box.
That was in 2010, when Toyota bought part of Tesla for $50 million or what at the time was a 3 percent share of the company.
Toyota knew how opposites attract and looked at Tesla as the number one automaker focused on electric vehicles, something Toyota knew a little something about considering the automaker introduced the world to the Toyota Prius in 1997. The car cruised around on a combination of gas and electric motors when Tesla was just a dream of its founders.
But within a few years of the 2010 partnership, Toyota realized how that whole opposites attract thing may actually be a turnoff. While Tesla has focused all its attention on batteries and electric cars, Toyota has focused on hydrogen fuel cells powering vehicles.
However, as Tesla opens business in Toyota's home market of Japan, Toyota says a foray into electric and automated vehicles is in the works, turning Tesla from partner to competitor. Toyota likely wants to move quickly to electric vehicles since the Volkswagen emissions scandal has caused regulators to become hyper-focused on gas and diesel engine emissions.
It's also assumed Toyota may not have cared much about Tesla taking risks concerning introducing and testing automated technology in the hands of customers, something that likely was at odds with Toyota's focus on safety.
The Japanese automaker took a beating over claims of defects causing unintended acceleration incidents and crashes, some that resulted in fatalities.
As part of the original $50 million sale, Tesla took control of a former Toyota assembly plant in California at a time when Tesla was just getting its ideas off the ground. Now that plant is used to manufacture Tesla's Model S cars, the same cars Toyota will be competing against in the electric car market.