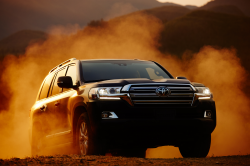 — Toyota is recalling 21 vehicles because they may be equipped with the wrong airbags, leaving occupants unprotected in a crash.
Recalled are the 2008-2016 Toyota Land Cruiser, 2006 Lexus LX 470 and 2008-2013 Lexus LX 570.
Toyota filed a recall in Japan earlier this year concerning Toyota Corolla Rumion vehicles that had the wrong airbags installed at the plant. Toyota checked records going back to 2002 and learned about the 21 vehicles affected in the U.S.
Some of the vehicles will need the driver's side airbags replaced, and the other vehicles will have the passenger-side airbags replaced. Toyota says no vehicle is equipped with two incorrect vehicles.
Toyota says the airbag recall will begin September 25, 2017, when dealers will start replacing the affected airbags in the 21 vehicles.
Toyota Land Cruiser, Lexus LX 470 and Lexus LX 570 owners with questions should call the automaker at 800-331-4331. Toyota's number for this recall is H0S. Lexus' number for this recall is HLD.
CarComplaints.com has owner-reported complaints about the Toyota Land Cruiser, Lexus LX 470 and the Lexus LX 570.