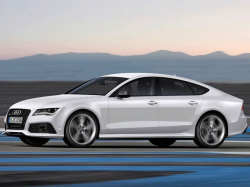 — Volkswagen and Audi vehicles are recalled as part of a series of recalls from automakers due to a company called Autoliv, the supplier of the airbags.
Recalled Audi and VW vehicles include the 2017 Audi A7, A4, A6, Volkswagen Golf, Tiguan and the 2016 Volkswagen e-Golf. About 5,900 vehicles are affected by front passenger and side head airbags that may not deploy during a crash.
In addition, the seat belt pretensioners may not activate during a crash if you're driving a 2017 Audi Q7, A4, A4 allroad or 2018 Audi Q5.
In December 2016, Autoliv told VW about problems with the airbags, specifically about airbag igniters in the front passenger airbag modules. The airbag module igniters have a generant mix ratio that may not be up to standards and specifications, causing the igniters to fail and causing failure of the airbags to deploy.
No recall schedule has been announced, but dealers will need to replace the bad airbags and seat belt pretensioners.
With questions or comments, Volkswagen owners should call 800-893-5298 or Audi at 800-253-2834.
The airbag recall was announced the same day Audi ordered two large recalls, one to prevent fires and the other to fix problems with ruptured airbags.