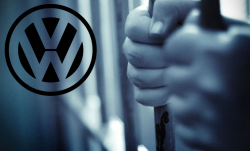 — Former Volkswagen engineer James Liang has been sentenced to 40 months in prison and fined $200,000 for his role in the automaker selling diesel vehicles with special software called "defeat devices" used to fool environmental regulators and U.S. consumers.
Liang was looking at the possibility of five years behind bars, but prosecutors recommended three years because Liang, 63, cooperated with authorities.
U.S. District Court Judge Sean Cox said Mr. Liang deserved the 40-month sentence for his part in the "very serious and troubling crime against our economic system."
The sentence was the first to finally send an auto executive to prison for schemes against the American public after Volkswagen admitted it spent years installing the illegal software in hundreds of thousands of vehicles. Worldwide about 11 million vehicles have been affected by the software that alters emissions controls while the cars are tested in lab settings.
Engineers designed the software after realizing the cars wouldn't pass strict U.S. nitrogen oxide emission standards. While the vehicles passed emissions tests in labs, nitrogen oxides were emitted up to 40 times above legal limits once the cars were back on the roads.
Liang told prosecutors he worked on the EA 189 diesel engine with other engineers and even came to the U.S. to launch the "clean diesel" vehicles marketed as good for the environment. Liang admitted he helped to make the illegal software function in the cars but kept his work quiet so regulators wouldn't know what was going on.
Judge Cox said Liang's prison sentence will hopefully scare other execs and engineers from breaking laws to deceive the public, but Liang's attorneys said a prison sentence wasn't necessary because he had stayed in the U.S. to assist the prosecution.
Attorneys for Liang told the court that a year in a local jail was enough punishment, or maybe 1,500 hours of community service and a fine, but the judge said no deal. Judge Cox said the engineer could have stopped his illegal activities, but "didn't want to walk away from this lifestyle, which would have been the right thing to do.''
Liang could appeal his sentence, but the next move for prosecutors is Oliver Schmidt, the former general manager of Volkswagen's U.S. Environment and Engineering Office.
Schmidt, 48, pleaded guilty to one count of conspiracy to defraud the U.S., to commit wire fraud and to violations of the Clean Air Act. Mr. Schmidt is scheduled to be sentenced December 6 when he faces up to seven years in prison.