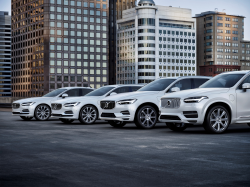 — Starting in 2019, don't expect to buy a new Volvo car that runs solely on gasoline as the automaker says it will start making all its vehicles with electric motors, ending production of cars that run only on internal combustion engines.
Volvo says it's starting a new chapter in auto history after more than 100 years of internal combustion engines ruling the world. According to Volvo, the selection of new cars starting in 2019 will consist of models that run on electricity only, in addition to hybrid cars and what the automaker calls "mild hybrid" cars.
Management says consumers are ready to switch to electric motors, so the automaker will introduce five fully electric cars between 2019 and 2021. Three of those cars will be Volvo models and two will be high performance electric cars from Polestar, Volvo's performance car division.
The five cars will add to models that run on gasoline and diesel fuels as part of plug-in hybrid vehicles. The automaker says the hybrid and mild hybrid cars will operate on 48 volts as internal combustion vehicles slowly disappear from the roads.
The plan is to have a million electric cars sold by 2025 as the price of batteries drop and more charging stations appear.
Since Volvo is owned by a Chinese company, many of the electric vehicles are expected to be built in China.