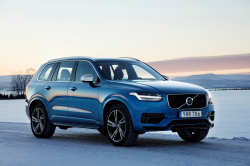 — Volvo is recalling more than 5,500 model year 2017 XC90, S90, and V90 Cross Country cars and SUVs because of inflatable curtain airbags that may fail to deploy properly in a crash.
Volvo recently received a report about repairs made to a courtesy handle located on the top side of the car where the technician found the top of a broken bolt from the inflatable curtain.
Volvo found that bolts holding the inflatable curtain in place may have been subjected to manufacturing mistakes that can cause the bolt heads to break and detach. Since the bolts are meant to hold the curtain airbags in place, the airbags may deploy in all kinds of weird but inaccurate ways during a crash.
Volvo says customers may hear noise coming from the area of the curtain airbags if just one bolt is bad.
Volvo is still working with the supplier to identify all affected vehicles, so it's possible more recalls for additional models may be ordered.
The recall is expected to begin April 1, 2017, when Volvo dealers will inspect the bolts and replace them if needed.
If you own a 2017 Volvo XC90, S90, or V90 Cross Country and have questions about the recall, call the automaker at 800-458-1552 and refer to recall number R89714.