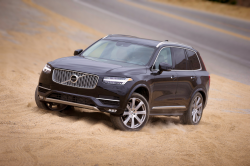 — Volvo XC90 SUVs have seat belt problems, enough to cause a recall of 1,300 of the model year 2017 vehicles to fix third-row seat belts.
Volvo says a small component inside the right-hand seat belt retractor called a micro gas generator can detach after the seat belt retractor pretensioner is deployed.
The automaker says the seat belt will still work in a crash, but the gas generator can become a projectile inside the cabin if the generator detaches. In addition to entering the cabin, the detached gas generator can enter the luggage area through the trim panel.
However, Volvo says the risk to occupants is low because the speed of the projectile will be decreased after traveling through parts of the SUV.
Volvo found the crimping of the tube that holds the micro gas generator wasn't made to specification, causing too much pressure for the defective crimp of the tube.
The automaker doesn't know of any injuries or crashes related to the gas generators.
The Volvo XC90 recall should begin August 7, 2017, when dealers will start replacing the third-row passenger-side seat belt retractors.
Owners of the recalled 2017 Volvo XC90 SUVs may call the automaker at 800-458-1552 and use recall number R89716.
CarComplaints.com has complaints about the 2017 Volvo XC90 and other model years of XC90 SUVs.