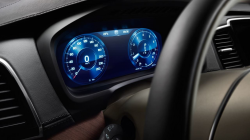 — A Volvo XC90 T8 lawsuit that was dismissed has been brought back to life on appeal, leaving the automaker to face claims about the range of the hybrid SUV based on a single charge of the battery.
Plaintiffs Khadija and Xavier Laurens filed the lawsuit in July 2016 alleging their 2016 Volvo XC90 T8 was advertised with mileage estimates of 25 miles on a single electrical charge but the SUV could only make it 10 miles on a charge.
The plaintiffs say they paid a whopping $72,000 for the XC90 T8 and expected to save money driving to and from work. Instead, the SUV was driven to a dealership where the plaintiffs were told the Volvo window sticker says the battery range on a single charge is 13 miles, not the 25 miles the lawsuit suggests.
The dealer also allegedly tested the T8 hybrid battery and got 18 miles on a single charge.
Volvo said advertisements calculated the range based on vehicle specifications that could vary based on different countries, something the plaintiffs didn't consider when they purchased the vehicle.
The automaker told the court the original advertisements that claimed a range of 25 miles were based on estimates according to certification standards in Europe which are different than U.S. Environmental Protection Agency (EPA) regulations.
The lawsuit had been dismissed after Volvo argued the plaintiffs couldn't prove the vehicle was falsely advertised and the plaintiffs simply misunderstood the battery range. The judge also said he was dismissing the case because Volvo offered the plaintiffs a complete refund but they turned it down and chose to sue the automaker.
An appeals court reversed the dismissal and found the plaintiffs did good enough in alleging the automaker misrepresented the XC90 T8 driving range on its electric motor.
The court ruled the plaintiffs adequately pleaded a claim of fraud against Volvo Car USA, LLC, although not against Volvo Cars of North America. The fraud claim is based on advertising released by Volvo Car USA, LLC.