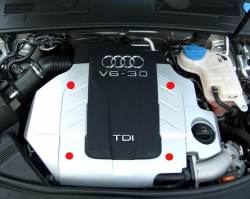 — A VW 3.0 TDI settlement update has been announced that sets forth more specific details about the 3.0-liter diesel settlement that involves about 83,000 owners of Audi, Porsche and Volkswagen "turbocharged direct injection" engines.
According to the federal court order, owners of 2009-2012 VW Touareg and 2009-2012 Audi Q7 3.0-liter vehicles affected by emissions defeat devices are eligible to receive buyback offers of $26,000 to $58,000 based on the model and mileage.
In addition, owners can choose to keep their vehicles, but only if VW can come up with a legitimate fix that is approved by the Environmental Protection Agency and the California Air Resources Board.
If the vehicle is repaired and retained, an owner is still eligible to receive $9,255 to $15,380 in compensation and a former owner will receive $4,627 to $7,747.
For owners and lessees of 2013-2016 vehicles, VW says it can repair the vehicles without the need to buy back the cars, and so far that looks to be true. Environmental regulators are expected to give approval to a fix for the newer vehicles that won't reduce performance of the cars.
Once the repairs are approved, owners and lessees will keep their vehicles and each receive compensation ranging from $8,539 to $17,614. Former owners of the newer cars will each receive $4,269 to $8,807 in compensation.
Affected vehicles include the following:
2013-2016 VW Touareg
2014-2016 Audi A6 quattro
2014-2016 Audi A7 quattro
2014-2016 Audi A8, A8L
2014-2016 Audi Q5
2013-2015 Audi Q7
2013-2016 Porsche Cayenne
A lessee can terminate the lease without penalty, plus receive a payment of $6,201 to $7,815 or keep the vehicle, have it repaired and also receive the payment.
The agreement will see more than $1 billion go back to consumers, unless Volkswagen cannot create an approved repair for the cars. The automaker could be looking at an expense of $4 billion to buy back all the 3.0-liter vehicles, adding to the $10 billion 2-liter owners will receive.
Additionally, a court-appointed claims supervisor will monitor how well Volkswagen handles compliance with the claims process.
Auto parts company Bosch manufactured the emissions defeat devices and is responsible for helping VW reimburse owners.
Owners of affected 3.0 TDI diesel vehicles can learn much more by visiting VWCourtSettlement.com.