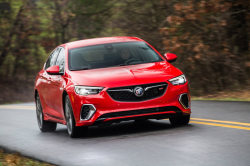 — Model year 2018 Buick Regals have rear seat belt problems caused during manufacturing, problems that will need to be repaired when General Motors begins recalling more than 8,700 cars in June.
GM says it found a 2018 Regal rear seat belt routed incorrectly around the seat bolster bracket in a test fleet vehicle, causing engineers to make changes to the way the seat belts were installed.
GM found more instances of misrouted seat belts a few months later and opened an internal investigation that determined the installation instructions weren't clear enough.
Specifically, GM says the installation instructions didn't convey clearly enough about how assembly workers should have routed the seat belts. This will prevent the rear outboard seat belts from properly restraining occupants.
The 2018 Buick Regals built after February 22 don't have seat belt problems because workers were provided updated installation instructions and GM required visual checks to make sure the seat belts were routed correctly.
Once the recall begins June 5, 2018, Buick dealers will inspect the rear outboard seat belts and fix any routing problems.
Owners of 2018 Regals may call the automaker at 800-521-7300 and use recall number 18117.
CarComplaints.com has complaints from Buick Regal drivers.