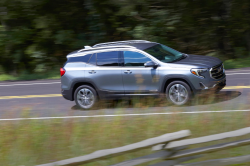 — General Motors is recalling more than 88,000 model year 2018 GMC Terrain vehicles because the airbags may fail in a crash due to problems with the sensing diagnostic modules.
The sensing diagnostic module (SDM) senses a crash and deploys the airbags, but engineers determined the module may not power down correctly when the Terrain is turned off.
The module may stay deactivated when the SUV is restarted, showing an airbag warning light to the driver and a message that says "service restraint system." Additionally, a driver will hear warning chimes indicating the airbags are off.
In January 2018, a GM engineer found problems with the 2018 Terrain sensing diagnostic modules (SDMs) where the modules lost communications.
Tests were conducted to duplicate the condition and an engineering bulletin was issued when a software problem was discovered by the supplier in March. GM opened an internal investigation and found more incidents of diagnostic trouble codes related to the modules, but no reports of crashes or injuries.
The 2018 GMC Terrain recall will eventually begin but General Motors doesn't know when dealers will get around to reprogramming the sensing module software.
Owners may contact GMC at 800-462-8782 and use reference number 18179.
GM has suffered from sensing diagnostic module problems in the past that affected millions of vehicles.
In July 2017, the automaker recalled 4 million vehicles with modules that caused failures of the airbags and seatbelt pretensioners.
CarComplaints.com has complaints from drivers of GMC Terrain SUVs.