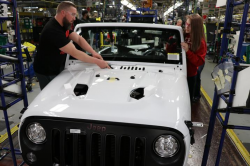 — Chrysler is recalling nearly 540 model year 2018 Jeep Wranglers to repair steering problems that can cause the steering wheels to lose center positioning.
A driver will notice a loss of steering response because the intermediate steering shaft may not have been properly welded, causing a split where the external spline is formed.
Testing was conducted to determine the steering wheel torque required to perform a 65 mph emergency lane change and found the suspect shaft did not meet the required torque to perform the maneuver.
Engineers found the Wranglers have incomplete long seam welds that can cause a split, and combined with high steering wheel torque, the steering wheel will lose center positioning. This can cause a driver to crash without warning, a problem blamed on a supplier that used the wrong repair parts on a welder.
However, the automaker says it is unaware of any crashes or injuries potentially related to this issue.
The 2018 Jeep Wrangler recall will begin July 14, 2018, when dealers will start replacing the intermediate steering shafts.
Owners may contact Chrysler at 800-853-1403 and refer to recall number U48.