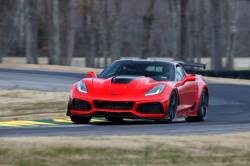 — General Motors is recalling its 2019 Chevrolet Corvette ZR1 sports cars with airbags that can fail in a crash.
About 498 of the $120,000 cars are involved in the recall after engineers discovered the problem during a media event.
A media demonstration was held in April 2018 to give the media a glimpse of the pre-production ZR1 at the Road Atlanta race track.
Engineers found problems with the sensing and diagnostic module after the car was operated under extremely hard braking and acceleration. Not a good sign for a brand new car that was manufactured for track use.
The automaker says the sensing diagnostic module can enter a fault state and won't return to normal operation until battery power is stopped. This will prevent the airbags from deploying in a crash, and the only warnings a driver will have is the illumination of an airbag warning light and a warning message.
General Motors doesn't know when the 2019 Chevrolet Corvette ZR1 recall will begin. GM says the problem can be repaired by dealers updating the sensing diagnostic module software.
Customers with questions should call 800-222-1020 and ask about recall number 18195.
CarComplaints.com has complaints about Chevy Corvettes and many other Chevrolet vehicles.