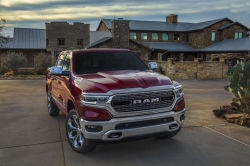 — A 2019 Ram 1500 recall will have dealers replacing the passenger seat track position sensor brackets because the current sensors can come loose and move out of their intended positions on 23 trucks.
Chrysler says the loose seat track position sensors on the manually-adjusted passenger seats can prevent the sensors from detecting if the seats are fully forward.
That's important because the frontal airbag may deploy in a way that could harm the passenger.
The 2019 Ram 1500 recall is expected to begin January 9, 2019. If you think you own one of the affected trucks, contact Chrysler at 800-853-1403.
Chrysler's number for this recall is UB7.
CarComplaints.com has complaints about 2019 Ram 1500 trucks and other model years of Ram 1500 trucks.