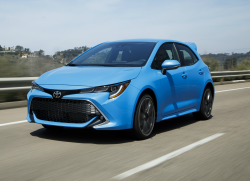 — A 2019 Toyota Corolla Hatchback transmission recall has been ordered for 3,400 cars that need their continuously variable transmissions (CVTs) replaced.
The problem is the torque converter that can fail in the CVT and cause the car to lose motive power at any speed.
The Corolla Hatchbacks are equipped with CVTs that use pump impellers and transmission oil in the torque converters to transfer engine power from the engines to the transmissions. But it's possible the assembly plant that made the torque converters made mistakes with the blades of the pump impellers.
This can result in blades that detach from the pump impellers when the Corolla Hatchbacks are operated in higher load conditions, such as rapid acceleration from slow speeds. The cars will lose motive power once the torque converters are damaged.
The only way to fix the problem is to replace the transmission with a new one that doesn't have a defective torque converter.
Toyota says it doesn't have enough replacement CVTs, so 2019 Toyota Corolla Hatchback owners won't be notified about the recall until the middle of February 2019. Customers will then receive second letters when dealers are ready to replace the CVTs and torque converters.
Corolla Hatchback owners may contact Toyota at 888-270-9371 and use recall number J17/J07.
Read what drivers say about their Toyota Corolla and Toyota Corolla Hatchback cars.