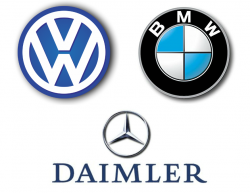 — BMW, Daimler and Volkswagen (including Audi and Porsche) are under additional investigations by the European Commission to determine if the automakers colluded and conspired to avoid competition.
The new investigation follows a 2017 probe by the Commission to learn if the German automakers met to discuss limiting vehicle emissions technology. German prosecutors say there is so far no evidence the automakers worked together on emissions defeat devices that brought emissions systems into the news.
However, investigators have questions about the diesel selective catalytic reduction systems and gasoline-related particulate filters. Both reduce emissions from diesel and gasoline engines, but the Commission wants to confirm or rule out the automakers colluded to limit the systems.
If confirmed, the practice would have prevented European consumers from purchasing vehicles capable of emitting less harmful pollutants.
The automakers admit they met to discuss a chemical called Adblue that is used to destroy nitrogen oxide emissions. Those meeting allegedly were held to determine the best methods to allow customers to buy refills for the emissions systems.
German media reported in 2017 that German automakers limited the size of the AdBlue tanks to make more room for features such as sound systems.
In addition, BMW said the smaller tanks caused no harm to emissions levels, but media reports suggest smaller Adblue tanks allegedly didn't provide enough of the chemical to keep neutralizing nitrogen oxide emissions. This allegedly caused BMW, Daimler and VW to use illegal software to alter the emissions systems.
Meeting to avoid competition could cost the automakers billions of euros because of anti-trust violations.