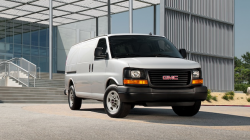 — General Motors is recalling more than 207,000 model year 2014-2017 Chevrolet Express and GMC Savana vans with driver-side power window switches that can corrode.
GM says liquid can enter the switch and corrode it, leading to high electrical resistance. The resistance can cause the switch to overheat, smoke, melt and cause a fire, although the automaker isn't exactly sure what is causing the corrosion.
Engineers say their best guess is any type of liquid can corrode the switch, whether it's rain water or a spilled soda.
If the switch starts going wacky, a driver may notice problems with the driver's side power window, followed by smoke or odors that come from the door panel.
GM dealers will replace the power window switches with switches that have an improved coating on the circuit boards, and those boards will also be trimmed to allow for more clearance between the the board and the housing walls. In addition, technicians will add drainage holes to the bottom of the switches.
The automaker doesn't know when the van recall will begin, but owners should watch the mail for official recall notices.
If you own a 2014-2017 Chevrolet Express or GMC Savana and have questions, call Chevy at 800-222-1020 or GMC at 800-462-8782. GM's number for this recall is 18155.
Read complaints sent to CarComplaints.com about Chevy Express vans and GMC Savana vans.