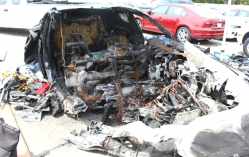 — The National Transportation Safety Board (NTSB) has released its preliminary report about a 2014 Tesla Model S crash in Fort Lauderdale, Florida.
The car was traveling at a speed of 116 mph on a road with a 30 mph speed limit just three seconds before the crash.
Based on reports from people who witnessed the crash, the Model S traveled into the left lane to pass a vehicle and lost control while moving to the right lane. The car hit and climbed onto a curb, crossed a sidewalk and hit the front wall of a house.
The car continued forward and slammed into the wall on the south side and at that point caught on fire. The Model S went back on the road, hit a curb and struck a metal pole, finally stopping in the driveway of a residence.
Killed in the crash were the driver, Barrett Riley, and front seat passenger Edgar Monserratt Martinez, both 18 years old. The rear passenger, 18-year-old Alexander Berry, was ejected from the car but survived.
The driver's family says he was previously ticketed for driving 112 mph in a 50 mph zone, so his father allegedly asked Tesla to alter the car so it wouldn't exceed 85 mph. The preliminary NTSB report doesn't indicate if the software had been altered.
The Fort Lauderdale Fire Department arrived on the scene to find the car fully engulfed in flames. Once the fire was under control after fire personnel used 200-300 gallons of water and foam, it was determined small pieces of the high-voltage lithium-ion battery had broken off from the Model S.
However, no visible fire was seen, not until the battery fire reignited as the car was loaded onto a tow truck. The fire department extinguished the flames, but the battery reignited again at the storage yard and caused the local fire department to show up and put out the fire.
The NTSB says data from the Model S shows the car was traveling 116 mph about three seconds before the crash. Two second before impact the car was going 108 mph when the driver hit the brakes and changed the angle of steering.
The data shows the stability control engaged at this time, and by the time the airbag command was activated the car's speed decreased to 86 mph.
All aspects of the crash remain under federal investigation and no probable cause will be released until the final report is concluded. Safety investigators say they are very interested to learn more about procedures used to extinguish the battery fires.
In addition, the NTSB is wanting to learn more about the methods used to remove the Model S from the scene and how the car was stored at the storage yard.