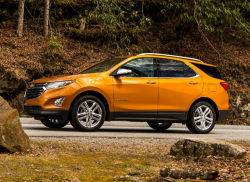 — General Motors is recalling nearly 400 model year 2018 Chevy Equinox SUVs to replace both front door windows that weren't tempered, at least not enough to keep the glass from breaking into large pieces.
The glass must be tempered based on federal regulations so the glass shatters into small pieces, but the machine at the supplier suffered from a blown furnace fuse.
This interrupted the quench cycle during the tempering process and the supplier failed to quarantine the faulty glass.
GM opened an investigation into which Equinox SUVs had the bad windows and believes 13 panes of glass are faulty, but the only way to replace the 13 is to replace both front door windows in 379 SUVs.
The recall is expected to begin May 11, 2018, but concerned owners with questions should call the automaker at 800-222-1020. GM's number for the recall is 18136.
CarComplaints.com has complaints about the 2018 Chevrolet Equinox and other model years of the SUV.