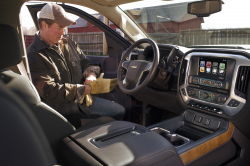 — General Motors is recalling more than 41,400 vehicles because of fears drivers could lose braking functions due to loose or broken brake pedals.
Recalled are the following vehicles that were included in a 2016 recall for the same loose brake pedal problems:
2015-2016 Chevrolet Silverado 2500
2015-2016 Chevrolet Silverado 3500
2015-2016 Chevrolet Silverado 1500 Crew Cab Special Service
2015-2016 Chevrolet Tahoe Police Pursuit/Special Service
2015-2016 GMC Sierra 2500
2015-2016 GMC Sierra 3500
GM received a report in April about a 2015 Chevrolet Silverado that had a brake pedal out of place and caused the driver to lose the brakes. Repairs were made with a new brake pivot bolt and nut ordered from a GM dealer.
The automaker then learned the truck had been repaired under a February 2016 recall, something that caused the automaker to open a formal investigation. The GM investigator determined the truck had only been inspected and did not receive adhesive on the brake pivot pedal nut even though the recall procedures required it.
The investigator reviewed repair data for the 2016 recall and determined 18 trucks that had been previously repaired with the inspection-only remedy had been returned for additional loose brake pedal pivot repairs.
At least 13 of those 18 vehicles were built with a pedal pivot bolt that should have indicated to the original repairing technician that thread adhesive should have been applied. In addition, technicians should have used increased torque on the nuts to secure the bolts and nuts.
GM finally discovered out of the 53,000 vehicles that received an inspection-only remedy under the 2016 recall, more than 37,500 were built with a bolt orientation that should have required application of thread adhesive and increased torque on the nut.
Furthermore, it was determined other service manual procedures not related to the recall but that did involve removal of the brake pedal pivot nut were not revised to include application of thread adhesive during reinstallation.
The automaker doesn't know when the recall will begin, but dealers will add adhesive to the nuts and make sure they are properly torqued.
Affected owners may contact Chevrolet at 800-222-1020 or GMC at 800-462-8782. GM's number for this recall is 18278.
CarComplaints.com has complaints about the vehicles named in the brake pedal recall.