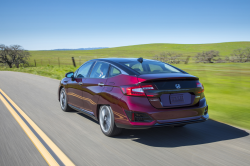 — A Honda Clarity Fuel Cell recall has been issued to prevent 1,082 cars from losing the power to move forward.
The 2017-2018 Clarity Fuel Cell cars can only be leased in California and must be repaired at one of the 12 authorized Honda Fuel Cell dealerships located in the state.
The automaker says the electronic control unit software is used to monitor the voltage in the fuel cell stacks. But Honda says the faulty software can shut down the fuel cell stack due to misinterpretations of minor voltage variances.
Honda recalled 471 of the California cars in February 2018 for similar software problems, but three customers reported their cars lost motive power after recall repairs were performed.
A car that quits moving while driving is cause for concern, but Honda says it doesn't know of any crashes or injuries related to the faulty software.
Owners of 2017-2018 Clarity Fuel Cell cars should watch for Honda recall notices in February 2019. Dealers will update the fuel cell electronic control unit software.
Concerned drivers should call the automaker at 888-234-2138.