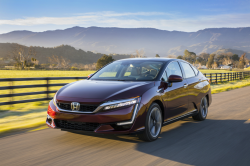 — Honda is recalling 471 model year 2017 Clarity Fuel Cell cars in California to update software related to the electronic control units.
The electronic control unit software monitors voltage in the fuel cell stack and can misread a minor change in voltage and shut down the response of the fuel stack.
A driver will feel a loss of power needed to keep the car in motion, although Honda says it hasn't received any complaints in the U.S. There have also been no reports of crashes or injuries related to the problem.
A driver will see a warning message that will appear on a screen below the speedometer that says, "Power System Problem. Stop Driving When Safe." Honda says a driver should get off the road as soon as possible if they see that message.
The car should be able to keep moving forward for a short time while getting power from the traction battery, but how far the car can make it will depend on the charge of that battery.
Honda will start mailing recall notices at the end of February 2018, and a Clarity owner or lessee will need to visit one of 12 available Honda Fuel Cell dealers in California.
Owners may contact Honda at 888-234-2138 and refer to recall number R0L.