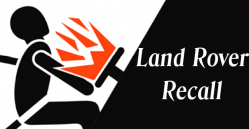 — Land Rover is recalling more than 36,500 vehicles as part of a Takata airbag recall expansion of 3.3 million airbag inflators at risk of exploding when they deploy, even in a minor crash.
The Jaguar and Land Rover passenger airbags are at risk of exploding due to a combination of age, moisture and the condition of the metal inflators. At least 21 people have been killed worldwide and more than 200 injured.
As of November 2017, 19 automakers had recalled about 46 million Takata inflators in about 34 million vehicles. By 2019, as many as 70 million Takata inflators will have been recalled in the U.S.
The National Highway Traffic Safety Administration (NHTSA) breaks down different parts of the country into "Zones."
The XF cars are recalled if they were sold or ever registered in "Zone A" states:
Alabama, California, Florida, Georgia, Hawaii, Louisiana, Mississippi, South Carolina, Texas, Puerto Rico, American Samoa, Guam, the Northern Mariana Islands (Saipan) and the U.S. Virgin Islands.
2010-2012 Land Rover Range Rover
2011-2015 Jaguar XF
The above vehicles are recalled if they were sold or ever registered in these "Zone B" states:
Arizona, Arkansas, Delaware, District of Columbia, Illinois, Indiana, Kansas, Kentucky, Maryland, Missouri, Nebraska, Nevada, New Jersey, New Mexico, North Carolina, Ohio, Oklahoma, Pennsylvania, Tennessee, Virginia and West Virginia.
Additionally, Land Rover is recalling the following vehicles in "Zone C" states:
2009-2012 Land Rover Range Rover
2009-2015 Jaguar XF
Zone C states include Alaska, Colorado, Connecticut, Idaho, Iowa, Maine, Massachusetts, Michigan, Minnesota, Montana, New Hampshire, New York, North Dakota, Oregon, Rhode Island, South Dakota, Utah, Vermont, Washington, Wisconsin and Wyoming.
The Takata recall should begin February 28, 2018, when dealers will begin replacing the Takata airbag assemblies.
Owners with questions or concerns should call 800-637-6837.