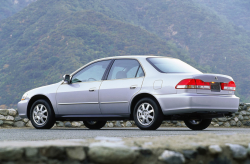 — The Florida Highway Patrol (FHP) has confirmed that Nichol Lynn Barker Pahlck, 34, is at least the 21st person killed by a Takata airbag.
In what police describe as a minor crash, the mother of three was driving a 2002 Honda Accord in Holiday last July when a 1999 Pontiac Firebird turned in front of the Accord, causing the front of the Honda to hit the side of the Firebird.
Florida authorities say the crash was completely survivable and it was surprising the amount of damage caused to Pahlck.
According to Florida investigators, nothing in the Accord other than the Takata airbag would have caused the facial injuries and death of Pahlck in a "crash that should not have been fatal."
Pahlck suffered a 6-by-3-inch wound to her left temple, a fractured skull and bleeding on the brain after the Takata airbag inflator exploded into shards of metal. Three passengers in the Accord suffered minor injuries and all were wearing seat belts. In addition, the driver of the Pontiac Firebird, Bradley Prescott, 19, sustained only minor injuries.
Pahlck allegedly purchased the 2002 Honda Accord from a private seller in 2016, and although the family denies receiving any recall notices, Honda said in previous statements that 21 airbag recall notices were mailed over the years to registered owners of the Accord, including 10 recall notices sent to the current owner.
In any event, the driver's side airbag inflator was never replaced.
It's those metal inflators that turn into grenades when the airbags deploy, sending hot shrapnel into occupants. Scientists determined a combination of age, heat, humidity and the design of the inflators are the cause of the problem. Inside the metal inflator is a chemical called ammonium nitrate used to create the allegedly small explosion needed to quickly deploy an airbag in a crash.
Florida is a location that Honda has focused on to ensure all affected airbags are replaced due to the heat and humidity in the state. The ammonium nitrate inside the inflator can become unstable due to moisture, causing the airbags to explode even in minor fender benders.
It's another blow to Honda as it was just last month when the automaker confirmed another Takata-related death in a Honda Civic. Killed in that crash was 60-year-old Rob Sharp who was driving the 2004 Civic in Louisiana when it hit the rear-end of another vehicle. The Takata airbag inflator exploded and sent shrapnel into Mr. Sharp's throat.
The latest two fatalities were confirmed near the same time Takata announced another recall of 3.3 million airbag inflators affecting numerous automakers.
Keep up with the serious dangers of these airbags by checking out the CarComplaints.com guide to the ongoing Takata disaster.