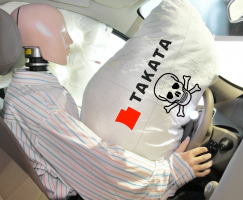 — The question of why Takata airbags explode might finally be answered as a group of scientists released results of their research into the problem.
Blamed on at least 10 deaths and 139 injuries, the metal inflator inside the airbag can explode when the airbag deploys. What is meant to protect vehicle occupants becomes a deadly weapon when the airbag inflator sends sharp metal into occupants.
Hired by 10 automakers and calling itself the Independent Testing Coalition, scientists examined airbags that use ammonium nitrate as the explosive chemical that deploys the airbags. Those airbags number about 23 million out of the estimated 28 million airbags that have been recalled by automakers in the U.S.
Orbital ATK, an aerospace manufacturer and defense company, found issues that when combined can cause the metal airbag inflators to explode.
First, the ammonium nitrate doesn't include a substance to absorb moisture. Without a separate chemical to absorb moisture, ammonium nitrate can become unstable and dangerous, especially as the chemical ages in heat and humidity.
Second, Orbital ATK determined the metal inflators aren't designed in a way to best protect them from moisture intrusion.
After receiving word from researchers, Takata said the findings match testing it conducted that indicates heat, humidity and moisture are at the heart of the exploding airbags.
Although this is a huge step in confirming the root cause, researchers say it could take years to make sure all inflators in U.S. cars are safe. It's estimated that as many as 120 million Takata airbag inflators in the U.S. are equipped with ammonium nitrate.
Independent Takata Corporation Quality Assurance Panel
In addition to the findings of the Independent Testing Coalition, a separate report was released after Takata hired experts to look at the internal workings of the company concerning quality-related practices.
Called the Independent Takata Corporation Quality Assurance Panel, it consists of the following seven members:
Panel Chairman
Samuel Skinner: White House chief of staff from 1991-1992 and U.S. secretary of transportation from 1989-1991.
Panel Members
Marion Blakey: President and CEO of Rolls-Royce North America, administrator of the FAA from 2002-2007, chairman of the National Transportation Safety Board from 2001-2002 and NHTSA administrator from 1992-1993.
Nelda Connors: Senior executive, Ford Motor Company and Chrysler from 2002-2008.
John Landgraf: Executive vice president of Abbott Laboratories from 1977-2015.
Dr. Julio M. Ottino: Dean of Robert R. McCormick School of Engineering and Applied Science.
Dr. Jeffrey Runge: Assistant secretary for health affairs and chief medical officer for the Department of Homeland Security from 2005-2008 and NHTSA administrator from 2001-2005.
John Snow: U.S. secretary of the treasury and NHTSA administrator from 1976-1977.
After completing its work, the Panel said Takata "must make significant improvements" in matters of quality, including the following:
Addressing quality-related concerns.
Ensuring quality in Takata's design and manufacturing processes.
Promoting quality through improved management practices.
Takata has agreed to implement the recommendations included in the 49-page report.
Testimony: Takata knew 16 years ago that airbags could explode
While the experts dissect Takata and its airbags, court proceedings have produced damaging testimony indicating Takata knew in 2000 that airbags could fail if the inflators contained ammonium nitrate.
According to a lawsuit filed by a Florida woman after she was allegedly paralyzed by a Takata airbag, Takata intentionally destroyed airbag parts and manipulated test data to conceal the deadly dangers.
Former Takata airbag engineer Thomas Sheridan said Takata starting having problems with airbag inflator ruptures about 16 years ago, the same time the company started using ammonium nitrate.
Sheridan said airbags failed during internal testing as early as 2000, but he ran into roadblocks when trying to find out what the problem was. Mr. Sheridan said he tried to examine the failed airbag parts but learned the parts had been thrown away by orders of Al Bernat, then vice president of engineering at Takata.
According to court documents, Takata tossed the parts and altered the test data to hide the facts from Honda, Takata's largest auto airbag customer. While airbags were exploding during Takata's tests, Honda was told those incidents were routine airbag deployments.
Sheridan testified he wasn't surprised to learn of Takata airbags killing and injuring consumers, but he was surprised it took so many years for it to happen.