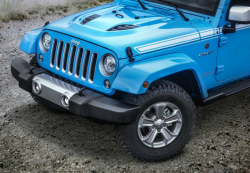 — A Jeep Wrangler heating and air conditioning lawsuit is over, at least for the three named plaintiffs who filed the lawsuit against Fiat Chrysler (FCA US).
Plaintiffs Joseph White and William and Donna Mooradian allege 2012-2017 Jeep Wranglers suffer from heating and air conditioning problems because of sludge in the radiators, heater cores and oil cooling systems.
According to the Wrangler lawsuit, FCA uses sand casting to manufacture certain engine parts, a method that uses disposable sand molds to form complex metal parts from alloys. The rest of the engine components use die casting, including for the engine blocks, but the automaker used sand casting for the cylinder heads.
The plaintiffs say any excess sand will seep into other engine components unless all the sand is completely removed from the cylinder heads.
The lawsuit alleges sand can circulate through the cooling system and settle in the radiator, oil cooling system and heater core. This causes sludge in the bottom of the radiator and reservoir that ruins the heating and cooling system.
According to the plaintiffs, normal maintenance does nothing to fix the problem because the sand and sludge is in the bottom of the radiator where flushing doesn't work.
In July 2013, William and Donna Mooradian leased a new 2013 Jeep Wrangler, but by October 2016, they said the Wrangler blew cold air instead of heat, causing the windshield to fog. When the Jeep had about 33,000 miles, a dealer found sludge-like residue in the radiator and oil cooler.
The dealer said it would cost $2,600 to replace the radiator, oil cooler and heater core, but nothing would be covered under warranty. The plaintiffs say they finally talked Chrysler into paying all but $300 for the repairs.
Plaintiff Joseph White purchased a new 2013 Jeep Wrangler Unlimited in 2013, and in June 2015, White's air conditioning allegedly wasn't working correctly, so the dealer flashed his air conditioning control head. However, White says the problem returned in 2016 and the dealer fixed things by replacing the blower motor.
The lawsuit was never certified as a class-action, but FCA and the three plaintiffs did settle their individual claims. No details of the settlements were released.
The Jeep Wrangler heating and air conditioning lawsuit was filed in the U.S. District Court for the Northern District of Ohio - Mooradian et al v. FCA US LLC.
The plaintiffs are represented by Landskroner Grieco Merriman, LLC, Whitfield Bryson & Mason, LLP, and Greg Coleman Law.
CarComplaints.com has complaints about the Jeeps named in the heating and air conditioning lawsuit: