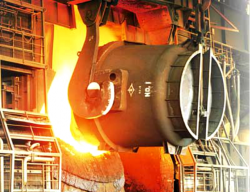 — A Kobe Steel class-action lawsuit alleges the company sold faulty metal to Toyota that was used in multiple models since 2003.
The lawsuit alleges these Toyota and Lexus vehicles are affected by Kobe Steel that doesn't meet performance standards:
2003+ Toyota Prius, Plug-in Hybrid (Prius Prime), Prius C and Prius V
2018 Toyota Camry
2007+Toyota Land Cruiser
2010+ Lexus GX
2007+ Lexus LX
2011+ Lexus GS
Plaintiffs Alejandro Nava and Shantnu Malhotra filed the proposed class-action lawsuit that includes consumers who purchased or leased any affected Lexus and Toyota vehicles in the U.S.
The problems started in June 2016 when a company in Kobe's Iron & Steel Business, Shinko Wire Stainless, was found to be in violation of the Japan Industrial Standardization Act. Kobe announced in August 2017 that it had found test data that wasn't handled properly, then in October Kobe said certain products weren't made to specifications because inspection certificates had been "improperly rewritten."
According to the lawsuit, numerous products were affected by the falsified date, including "19,300 tons of flat-rolled and extruded aluminum products, 2,200 tons of copper products, and 19,400 units of aluminum castings and forgings."
However, Kobe says, "To date, a number of our customers in car and vehicle manufacturing businesses have found no problems with the safety of Kobe Steel's products."
The plaintiffs claim Toyota has a close working relationship with Kobe because Toyota is a shareholder of Kobe's Aluminum division, with the Toyota Tsusho Corporation owning 15 percent of Kobe Aluminum Automotive Products.
The plaintiffs also allege it's possible the falsification of metal data caused misstated fuel economy ratings, although "the exact nature of Kobe's falsification is not yet known." The plaintiffs further claim there may be faulty metals in the drivetrains, engines and suspensions that cause affected Toyota and Lexus vehicles to lose their resale values.
Toyota released a statement November, 6, 2017, to update its investigation into the Kobe data falsification revelations and determined "the quality and performance of its vehicles satisfy our internal standards." The automaker said it was continuing its investigation and needed additional time because numerous suppliers were involved for various car components.
On October 19, 2017, Toyota issued another update regarding Lexus and Toyota vehicles. Specifically, the automaker said the initial phase of the investigation focused on aluminum plates based on information received from Kobe Steel. Toyota confirmed the affected aluminum plates were used in the construction of hoods, rear hatches and front door hinge components of certain vehicles.
However, Toyota said it confirmed the aluminum plates satisfy regulatory standards and Toyota's own internal standards.
The automaker said it is still investigating the issue, including "non-aluminum materials purchased directly from Kobe Steel or in the form of components via suppliers used in Toyota vehicles, such as copper tubes, steel wires, steel powder, etc."
The Kobe Steel and Toyota class-action lawsuit was filed in the U.S. District Court for the Northern District of California - Alejandro Nava and Shantnu Malhotra, v. Kobe Steel, LTD., and Toyota Motor Corp. et al.
The plaintiffs are represented by the Law Office of Jack Fitzgerald, PC.