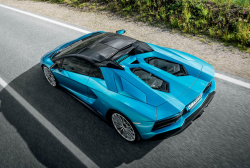 — Lamborghini is recalling 1,700 model year 2012-2018 Lamborghini Aventador Coupes and Roadsters to fix engines that stall.
In 2017 Lamborghini received complaints about engines that stalled during the winter. The automaker opened an internal investigation and discovered problems with estimates of the fuel flow of the purge valves in certain driving conditions.
Those conditions consist of when the accelerator pedal is released below 2,000 rpm at the same time the transmission shifts from high to low gears. Lamborghini says a driver won't be warned the engine is getting ready to stall.
A stalled engine while driving is dangerous because the servo steering and brake booster functionalities will be lost. However, the automaker says the engine should be able to restart after it stalls.
The engine may stall unexpectedly during certain driving conditions such as when the accelerator pedal is released below 2000 rpms while the transmission is automatically down shifting to a lower gear.
Lamborghini will notify owners in August 2018 concerning dealers updating the engine software.
Lamborghini Aventador owners may contact Lamborghini customer service at 866-681-6276 and refer to recall number L73X-R.02.18.
In a second and much smaller recall of eight cars, 2015-2016 Lamborghini Aventador SV Coupe and Aventador SV Roadster vehicles have wheels that may detach.
The bolts centering and supporting the brake discs to the hubs may loosen over time.
Dealers will need to replace the centering bolts with bolts that have thread-locking fluid applied. The recall is expected to begin August 31, 2018, but owners with questions may call 866-681-6276.
Lamborghini's number for this recall is L73XR0318.