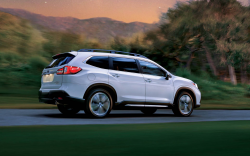 — Subaru is recalling nearly 300 model year 2019 Ascent SUVs after determining that possibly three vehicles need to be replaced.
The recalled Ascents may be missing spot welds around the B pillars that will compromise structural strength.
Subaru says less than 1 percent of the SUVs are affected out of the 293 recalled Ascents and the vast majority of the vehicles are in the hands of dealers.
Therefore it's possible no owner will have their SUV replaced, but there is no way to repair the problem and the few affected vehicles will have to be destroyed.
The automaker blamed the problem of missing welds on someone who made mistakes when programming the welding robots. All 293 Ascents will need to be inspected by dealers to find the three SUVs that are missing the spot welds.
Subaru says it will take a dealer about 10 minutes to determine if a vehicle is affected.
Model year 2019 Ascent owners should have already received recall notices, but SUV owners with questions should call Subaru at 844-373-6614. Subaru's number for this recall is WTU-80.
CarComplaints.com has complaints from drivers of Subaru vehicles.