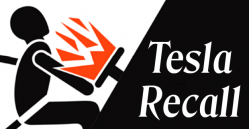 — Tesla is once again paying a price for equipping cars with Takata airbags as the automaker announces a recall of nearly 18,000 Model S cars to replace the passenger frontal airbag modules.
The passenger airbag inflators are at risk of exploding when they deploy, even in a minor crash.
The recalled 2013 Model S electric cars are part of an expanded recall of 3.3 million Takata airbags that have caused multiple automakers to take action.
Inside the airbag modules are metal inflators, and inside those inflators is a chemical called ammonium nitrate used to create what should be a small quick explosion to deploy the airbags in a crash.
But age, heat, humidity and the condition of the inflators can allow moisture to invade the ammonium nitrate, turning a small controlled explosion into a massive blast of metal to the bodies of occupants.
The Takata airbag recall should begin in March 2018. Tesla service centers will need to replace the passenger frontal airbag modules, but owners with questions or concerns should contact the automaker at 877-798-3752.
Tesla's number for this recall is SB-18-20-001.
Keep up with the latest airbag news by checking out the CarComplaints.com Takata consumer guide.