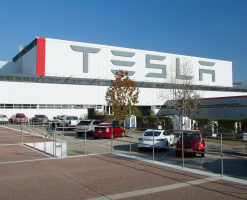 — Tesla has won a lawsuit that alleges the Ontario government intentionally targeted the automaker by cancelling an electric vehicle rebate program for Tesla customers but not the customers of other manufacturers.
The Electric and Hydrogen Vehicle Incentive Program was created by the previous administration to provide rebates up to C$14,000 ($10,640) when buying qualifying electric cars.
Tesla sued Ontario by alleging the Canadian government changed the rebate program to exclude Tesla by giving the promised rebates to customers if they purchased electric vehicles that were already on dealer lots.
The new rules left Tesla out in the cold because the automaker doesn't sell through dealerships and allegedly caused "substantial harm on Tesla Canada" by leaving hundreds of customers without the rebates.
Saving $14,000 off the price of a new Tesla was a major selling point to the Canadian customers, and Tesla said in the lawsuit the "unquantifiable and irreparable harm" was growing each day under Ontario's new plan.
According to the lawsuit, Ontario put Tesla's customers in the:
"unfair position of no longer being eligible for the rebate they had expected to receive when they ordered their vehicles, while purchasers of other brands and from other dealers will still receive the rebate during a transition period."
In ruling in favor of the automaker, the Ontario Superior Court of Justice found the Ontario government had every right to cancel the rebate program, but it was clear the government "singled out Tesla for reprobation and harm."
The Court also ruled it was "egregious" to knowingly exclude hundreds of Tesla customers from the rebates while including customers from all other automakers. Based on court documents, Tesla believed at least 600 Model 3 orders would have been erased from the program.
The Ontario decision was one bit of good news for Tesla, but the automaker also prevailed in a different lawsuit filed over allegations of securities fraud concerning production of Tesla's Model 3.
The suit alleges Tesla lied about its ability to manufacture the Model 3s as more than 500,000 consumers laid down deposits for the cars. Faith in sales of the Model 3s caused Tesla's stock to climb while the automaker admitted it couldn't meet production goals.
The securities lawsuit alleges Tesla was naive and completely unprepared to meet a goal of rolling out 5,000 electric cars per week. The judge agreed, but also ruled securities laws aren't meant to punish a company just because it didn't meet its projected estimates and goals.