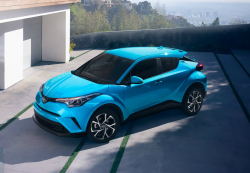 — A 2019 Toyota C-HR recall has been ordered for about 700 SUVs because the rear wheels could fall off, and in the words of Toyota, result in "reduced brake performance or a potential loss of vehicle stability."
That would be an understatement for wheels that detach from the SUVs because the rear axle bearing bolts may not be tight enough. Even if the rear wheels don't detach, the loose bolts could damage the rear brake components and cause a driver severe problems.
The 2019 C-HR SUVs suffered the problems during manufacturing, something seen way too often about models that have just left the assembly lines. Then again, at least Toyota caught the issue and took quick action to protect customers and others on the roads.
The government hasn't released recall details and Toyota didn't say more, other than dealers will check the bearing bolts for the rear axle hubs and replace the hub bearing assemblies if loose bolts are discovered.
Additionally, dealers will install new rear axle carrier sub-assemblies if there are loose or missing bolts.
CarComplaints.com will update this page when details are released about when the Toyota recall will begin.
C-HR owners may call Toyota at 800-331-4331.
Read what owners say about their Toyota C-HR SUVs or what drivers report about other Toyota models.