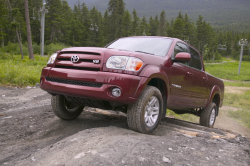 — A Toyota Tundra crash that left a man severely injured wasn't caused by a lack of electronic stability control, or what Toyota calls vehicle stability control (VSC).
In April 2010, William Jae Kim was driving his 2005 Toyota Tundra on a wet highway and traveling down a curve at about 45 mph when a car driving toward him crossed the center line.
Kim says he steered the Tundra to the right but two tires veered onto the gravel shoulder, causing him to steer left to return to the asphalt but his truck traveled too far to the left and his tires slipped.
Kim steered to the right and lost control of the Tundra, sending it off the highway and over an embankment as it rolled onto its roof and then back onto the wheels. The plaintiff sustained severe lifechanging neck and spinal cord injuries in the crash.
Kim filed the lawsuit alleging the crash occurred because the 2005 Tundra wasn't equipped with vehicle stability control because engineers decided to offer VSC only as an option rather than equipping all 2005 Tundra trucks with VSC as standard equipment. Kim alleges in the lawsuit the lack of VSC is a design defect of the Tundra.
Prior to trial, the plaintiff filed a motion that asked the court to preclude Toyota from introducing any evidence "comparing the Tundra to competitor's vehicles and designs," which effectively excluded all evidence of customary practice of the pickup truck industry.
Kim also wanted the court to deny the right for Toyota to argue any evidence that Toyota's "design choices were not defective because they were equivalent or superior to those of its competitors."
Kim also filed a motion to leave out "any argument, evidence or testimony" showing the 2005 Tundra was not defective because it complied with federal safety standards. However, the trial court denied the motions.
Multiple experts and witnesses were called by both sides to provide input about the Tundra and the vehicle stability control feature.
Sandy Lobenstein, Toyota's product planning manager, testified Toyota offered VSC as standard equipment in some SUVs beginning in 2001 or 2004 and made VSC available as an option for the Tundra in 2004 and 2005 models. Lobenstein said this was done "so the customer[s] had the choice whether they had VSC on their vehicle or not."
Lobenstein said Toyota engineers had recommended making VSC standard equipment for the Tundra but no other manufacturer offered it as standard equipment in full-size pickup trucks at that time because customers prioritized other features.
The jury found that just because the Toyota Tundra did not have stability control didn't mean the truck had a design defect, a ruling that left the plaintiff asking for a new trial. That motion was rejected by the trial court, causing the plaintiff to appeal to the Second District Court of California that ruled it saw no problems with the original verdict.