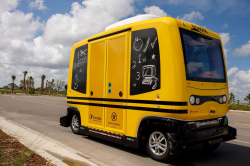 — Driverless vehicle company Transdev North America has been warned by the National Highway Traffic Safety Administration (NHTSA) to stop transporting school children in driverless shuttles in the Florida community of Babcock Ranch.
According to NHTSA, Transdev has already agreed to halt the operation that uses EZ10 Generation II driverless shuttles.
Federal safety regulators allege Transdev asked for permission months ago to temporarily import the driverless shuttles to be used for demonstration and testing purposes.
Transdev had called the Babcock Ranch operation a "pilot program" as the first autonomous school shuttle in the world. Transdev said the 12-person shuttle would operate with a safety attendant riding along with the students. However, the route and operation would depend fully on automated technology.
Transdev said the Babcock Ranch school would be a good fit for autonomous technology because Babcock is the first solar-powered community in the country, with hopes to grow to a population of 50,000 residents.
NHTSA says Transdev requested permission to use the driverless shuttle for a specific demonstration project but not as a school bus. Additionally, Transdev allegedly failed to disclose or receive approval that it intended to use the shuttle to transport children.
The government says Transdev violated its agreement by using a non-complaint test shuttle to transport kids.
By agreeing to halt its automated school shuttle program, Transdev will avoid civil penalties and the possible blockage of the right to import the vehicles for testing.