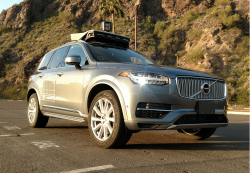 — An Uber self-driving SUV has killed a woman in Tempe, Arizona, as she was walking her bicycle across the street.
Early reports say Elaine Herzberg, 49, was walking her bike outside the crosswalk lanes when the self-driving Volvo SUV struck her. Herzberg was later pronounced dead at a hospital. Tempe police say the SUV was traveling 38 miles per hour when the woman walked from the center median into the path of the Volvo.
Authorities say they viewed a video of the incident and believe it would have been difficult for any vehicle or driver to avoid the woman. Police also say the self-driving SUV never applied the brakes prior to the impact.
The fatality caused the ride-sharing company to halt all testing of autonomous vehicles while it works with investigators to determine how the incident occurred.
Arizona officials say the SUV was in self-driving mode when the woman was struck, but the Volvo had a human driver who was allegedly there to take control if problems occurred.
Consumer advocates say the death is why the federal government should take a hands-on approach to autonomous technology instead of its current role as creator of "voluntary guidelines."
States such as Arizona have invited Uber and other companies to turn public roads into test laboratories believing it will create jobs. Although some states require self-driving companies to submit reports about incidents, Arizona has no regulations that require such reports.
Safety advocates also argue the absurdity of politicians who say safety is their first priority then do nothing to create enforceable safety regulations.
The Center for Auto Safety says tragic accidents will certainly continue as long as human beings are used as guinea pigs in self-driving car experiments.
"This is exactly what we have been concerned about and what could happen if you test self-driving vehicles on city streets. It will set consumer confidence in the technology back years, if not decades. We need to slow down." - Center for Auto Safety
Safety advocates say next month in California will be a scary time because the DMV will allow driverless cars on public roads without human drivers in the vehicles.
"If robot cars are already killing people even with the presence of a human driver in the car, how lethal are these technologies going to be next month when they will roam public roads without a human onboard ready to take control?" - Consumer Watchdog
Consumer Watchdog says documents included in a messy lawsuit between Uber and Waymo (Google) show how little safety matters in the race to fill the roads with driverless cars.
In a 2016 email between former Uber CEO Travis Kalanick and then lead self-driving car engineer Anthony Levandowski, the engineer said, "I just see this as a race and we need to win, second place is first loser." In a separate email the same day, Levandowski said, "We do need to think through the strategy to take all the shortcuts we can find."
The National Highway Traffic Safety Administration and the National Transportation Safety Board are sending investigators to Arizona to begin the job of reconstructing what happened.