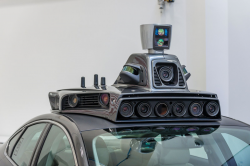 — California is at it again with changing regulations for driverless cars as the state says it will allow cars without drivers to start cruising public roadways.
The California Department of Motor Vehicles (DMV) has changed its autonomous regulations like a newborn goes through diapers, but this time the term "driverless" is literal. Sorta.
Each car will have a remote-control operator who must be ready to take control if things don't go as planned. The new regulations also require police to approve which local roads are used.
California has been terrified of losing driverless car business to other states and trying to please automakers and auto safety advocates hasn't worked out well. At one point the DMV said every autonomous vehicle needed a driver to be ready to grab the wheel.
Self-driving companies accused California of being too strict, so the DMV defaulted to following the federal government and its "voluntary guidelines."
The state was also accused by safety advocates of allowing automakers to place liability on drivers and not the cars, so California once again changed its proposed rules.
Now the latest regulations are set to begin April 2 for consumer vehicles, but large trucks and other commercial vehicles aren't included.
The DMV says the remote "driver" must be in communication with occupants in the driverless car in the event a human has to take back control of the car.
Although the DMV says safety takes first priority, Consumer Watchdog says the new rules will create a situation "just like playing a video game, except lives will be at stake."
According to the consumer advocacy organization, self-driving car "disengagement reports" filed with the DMV show autonomous technology is not safe and not nearly ready for prime time.
Consumer Watchdog says in 2017, 20 companies with driverless car permits were mandated to file disengagement reports to show the number of times the autonomous technology failed.
The current leader in autonomous testing, Waymo (Google), reported the technology disengaged 63 times (once every 5,596 miles) and the disengagements weren't caused by outside sources such as weather, road conditions or objects. Reportedly the most common causes for the disengagements were found in the technology itself that caused a human driver to take control of the car.
Consumer Watchdog also points to General Motors and its "Cruise" division that will allegedly have full driverless cars for use on public roads in 2019. GM's self-driving cars drove 131,675 miles and had 105 disengagements (one every 1,254 miles).
Nissan had five autonomous vehicles on the roads that logged 5007 miles and had 24 disengagements, while a company called Drive.ai had 151 disengagements in 6,572 miles driven.