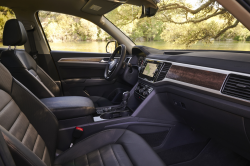 — Volkswagen is recalling more than 9,600 model year 2018 Atlas SUVs because the air conditioning evaporator drain tubes may have been twisted during manufacturing, causing water to drain into the cabins and the airbag control modules.
The wet modules can cause the airbags to deploy without cause.
Volkswagen first checked into the problem in August 2017 after complaints about wet carpets, illuminated airbag warning lights and deactivated airbag control units. VW didn't see it as relevant to safety and issued a service campaign.
The problem was also presented to the government and deemed a non-safety issue.
Then in June 2018 the automaker was told of a curtain airbag that deployed for no reason and a recall was issued because the airbags could unintentionally deploy.
Drivers may notice bad smells, illuminated airbag lights and wet carpets, but it's possible other warning lights could also activate.
Volkswagen dealers will inspect the drain tubes and hoses and the airbag control modules will be replaced if the tubes are twisted.
The recall is expected to begin October 14, 2018, but Atlas owners with questions should call VW at 800-893-5298.
Volkswagen's number for this recall is 87F9.