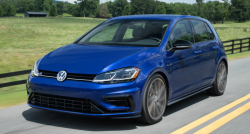 — A Volkswagen Golf R recall has been issued to fix problems with the fuel lines in 516 cars that could catch fire.
The 2018 Volkswagen Golf R vehicles have quick connectors on the fuel hoses that can unintentionally detach from the fuel supply lines in the engine bays.
Any amount of leaked fuel that hits an ignition source could cause drivers serious trouble, so dealers will need to make sure the fuel line connections are secure.
VW says the Golf R recall should begin December 20, 2018, but owners concerned about fuel leaks should call the automaker at 800-893-5298.
Volkswagen's number for this recall is 20Bi.
Read what drivers tell CarComplaints.com about their Volkswagen Golf and Golf R vehicles.